China has firmly rejected the unilateral sanctions the US government has imposed on Chinese companies to economically isolate North Korea, Foreign Ministry spokesman Lu Kang said on Wednesday.
"We firmly oppose the long arm of the jurisdiction against Chinese companies and individuals according to their legislation because it is wrong," Lu told a news conference after it was revealed that the US sanctioned four companies based in China that have trade relations with Korea From the north.
According to the US Treasury Department, between January 2013 and August 2017, three of these companies exported goods worth $ 650 million to North Korea and imported goods worth $ 100 million from that country.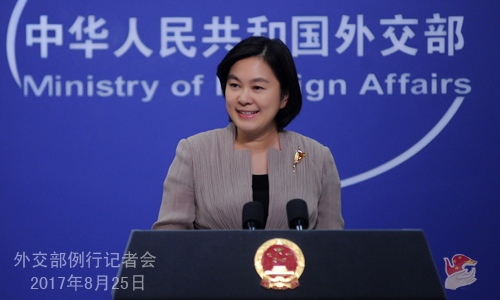 Lu Kang said that if China confirms that any of these companies or individuals "are involved in activities that violate Chinese law or international obligations," it will strictly settle its own rules.
He also asked those who wanted to cooperate with Beijing "in a constructive way" and had solid evidence in this respect, to share with China to solve the problem.
Lu commented that the US knows China's position on this issue and has claimed that, as a permanent member of the UN Security Council, the Asian giant has always strictly implemented all North Korea-related sanctions, but opposes those sanctions. some countries.
Donald Trump's government announced on Tuesday sanctions against North Korean companies and Chinese commercial companies in a new attempt to economically isolate the regime of Kim Jong-un to put an end to its nuclear development.
The sanctions came just a day after the US president put North Korea back on the list of "sponsors of terrorism," which had come out nearly a decade ago and included Iran, Syria, and Sudan.
The goal of the sanctions is to impose "greater economic pressure" on North Korea to make it difficult for Kim Jong-un regime to access key entities within the transportation industry, according to Treasury Secretary Steven Mnuchin.